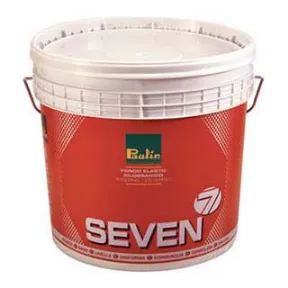 Seven siloxane elasto bottom
Seven e? an extremely versatile product that finds multiple applications in the Paulin restoration cycles, in preparation for the 26-rsquo application of the different layers. It is a uniforming primer based on elastomeric and siloxane resins for external and internal uses, able to mask any defect in the plaster, both as a filler for filling micro-cracks and as a skim coat. Its composition gives it precise characteristics of water repellency, important for protecting the surfaces from the 26-erosive attack of the 26-rsquo; humidity&agrave ;. In the coating cycles based on synthetic resins, Seven allows a better aesthetic finish before the application of water-based paints, proving to be an excellent product to even out irregular surfaces thanks to its high masking value. In the same way, it is an ideal solution as a primer for the glazes with a sponge float on civil surfaces to be executed with Silox Vel.
SPECIFICATION ITEMS:
Treatment of entire surfaces with SEVEN PAULIN, Primer for exteriors and interiors based on elastomeric and siloxane acrylic resins, inorganic pigments, micronized charges and marble with a maximum granulometry of 0.5 mm, usable as a skim coat for imperfections up to 1 mm with a consumption of 1.5 liters / m, as a uniforming primer with a yield of 4 5 m / liter in one coat. Can he? be overpainted with vinyl, acrylic and siloxane paints from the PAULIN range.
Technical features
FILLER: Dry residue 75 # 37 ± 3
BREATHABLE: Permeability? steamed d' water Sd: (EN ISO 7783-2) < 0.5 m (V2-medium) thickness 0.5 mm
WATER-REPELLENT: Absorption d' water (EN 1062-3) < 0.1 Kg / m2 x h0.5 (W3 - low)
CIVIL FINISH: Maximum particle size 0.5 mm
OPACITY ?: < 5 gloss at 85°
WHITE POINT: Y = 88 ± 0.05
PLURIAPPLICABLE: Brush, roller, trowel, spray
YIELD: 4 - 5 m2 / l per coat as uniforming 1.5 m2 / l per coat as a skim coat
Smoothing base
Stucca: L' high percentage of fixed residue of Seven allows to hide the small imperfections of the support, filling and filling the micro-cracks caused by plastic shrinkage during the setting phase.
Rasa: Applied as a trowel, can you? be laid on large surfaces, both external and internal, with a masking effect that covers cracks and imperfections, for a smooth shaving.
Level: Seven has a high degree of filling which makes it possible to uniform the grain of supports of different composition, making it more? simple and easy l' application of subsequent layers.
Uniform: Allows you to mask irregular surfaces up to 300 - 400 meters Do you create this? a full effect that does not create inhomogeneity? also for the subsequent application of painting.
Garment: Seven makes it possible to uniform different surfaces like plasterboard and plaster, with a covering effect, uniform and opaque.
Consolida: Thanks to its composition based on elastomeric and siloxane resins that favor the grip and l' adhesion, Seven gives greater stability? and compactness to weak supports.
Link: In the cycles in which products of different types are used, Seven adheres to the support creating l' correct adherence between the various supports.
Catalog